What if you could completely reimagine your fertility in just 12 days?
Our Fertility Challenge Is On In:
An Exclusive, 12-Day, FREE, Educational and Action-Oriented Program to
Revolutionize Your Fertility
It all starts with one decision.
Cast aside everything you've heard or experienced about:
Nearly 140,000 individuals have conquered the Fertility Challenge ™ program and shared stories of how doing so changed their lives for the better in countless ways.
Because you see, no matter what your unique fertility situation is today, you always have the power to change it and create the baby of your dreams.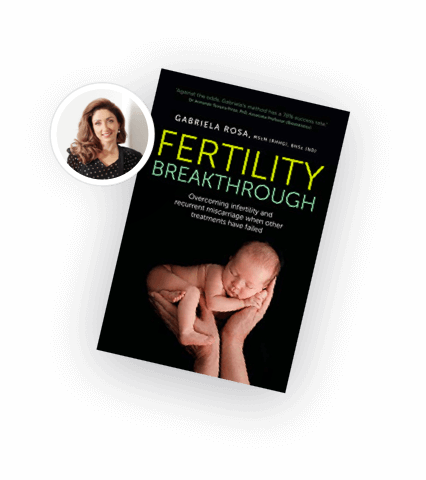 Fertility Breakthrough: Overcoming infertility and recurrent miscarriage when other treatments have failed
The advice in this book has helped thousands take charge of their fertility and give themselves the best possible chance of finally taking home the healthy baby of their dreams.
You Can Take Charge of Your Fertility, Today
Based on applying the 7-Step F.E.R.T.I.L.E. Method® in a proactive and applied learning experience, the Fertility Challenge™ program is the ONLY free fertility event of its kind that teaches you to take charge of your fertility, your life, and your results.
Our very own Gabriela Rosa, fertility specialist and Harvard University awarded scholar is your host for the entirety of the 12 days of this positively life transforming program, designed to guide and inspire couples and individuals who have been struggling to conceive and/or keep a healthy pregnancy to term and take home a healthy baby for over 2 years.
Space is limited to 300 couples who will receive daily, expert guidance on their fertility journey. Gabriela will be there every day to encourage and inspire your commitment, and support you as you find your strength and transform your results.
There is more you can do.
There is a better approach.
There is hope.
And it can start today.
How Does the Application Process Work?
The Fertility Challenge™ program currently takes place three to four times a year. However, we are always cognizant of ways to improve and adjust the challenge to best serve those couples and individuals who take part. Sometimes that has meant shifting dates and frequency.
Your best course of action is to apply as soon as you feel even remotely ready to transform your fertility for good. And you are ready to do the work because you can only participate one time and we now only accept a maximum of 300 couples into each program, you may be entered onto a waitlist for the next one once we reach capacity.
Once 300 couples have completed ALL the requirements to enter and are subsequently invited to join the special, secret Facebook group (the platform we use to deliver the Fertility Challenge™ program), registrations close. If you did not make it to the cutoff, you are welcome to join the waitlist for future events.
We strongly encourage partners (where applicable) to also join the group because, as you will see, fertility is a team sport. We always witness best results for couples who participate together.
Equally, individuals pursuing solo reproduction and same-sex couples are most welcome to join the event — as long as you can graciously accept that for now, the languaging we use refers to couples in a heterosexual context, for no other reason than ease of expression concerning reproduction.
And once again, please kindly note that the participation limit is for a MAXIMUM of 300 couples ONLY. Therefore, this leads us to ask this very special request:
Unless you and your partner (where applicable) are truly committed and can devote the time to fully participate and complete the tasks, please do not apply to enter. Be considerate to not register simply to take up space, and as a result, rob another couple (who are ready to put in the work) of the opportunity to join.