When It Comes To Fertility, There Is No One At 'Fault'
And You Find Answers Together
We Empower Both Partners On Their
Journey To Parenthood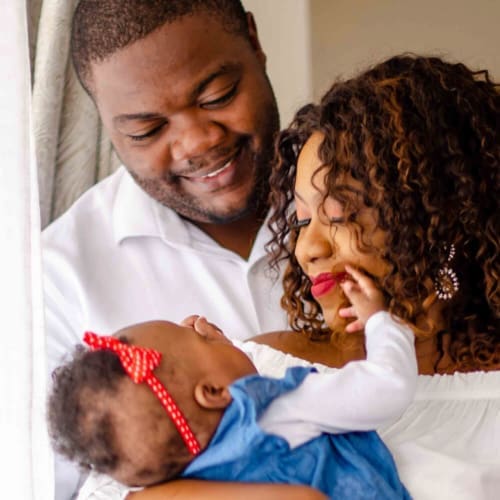 Optimizing your fertility and overcoming reproductive challenges is NOT something you can undertake haphazardly. You must be consistent and committed to a proven process as a couple, as a team. This is how the couples we work with have transformed their results and their chances of success in having a baby.
FERTILITY IS A TEAM SPORT, and the male contribution to a couple's chances of taking home a healthy baby is paramount.
Most fertility treatment options fail to support men appropriately from a biochemical standpoint to specifically optimize sperm production and sperm health or take into account how they are feeling, their stress levels, and what they are doing to improve their general health toward ensuring a healthy dad – able to be present for his offspring. Despite it often starting as a female-centered conversation, our results in treating thousands of patients over the last 20 years prove couples get better results (faster) when they work together as a team.
Men also struggle with both the physical and mental challenges of infertility. They are often not given the appropriate guidance and support to know how they can help themselves through reproductive difficulties and the couples chances of success. The key is to ensure men are equally educated towards what each partner can do to together transform their results when it comes to getting pregnant and taking home a healthy baby.
When we say it's about transformation – at every physical, emotional, and biochemical level – we mean transformation for each member of the team, the couple, your relationship and your entire family foundation.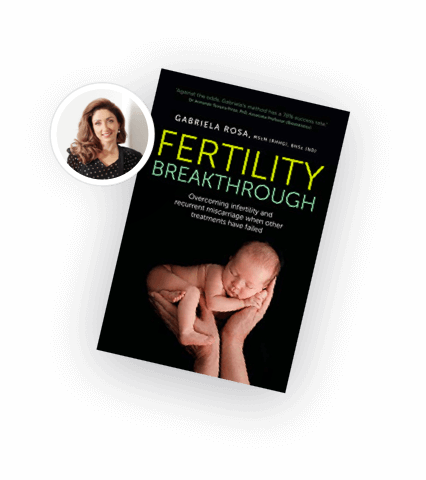 Fertility Breakthrough: Overcoming infertility and recurrent miscarriage when other treatments have failed
The advice in this book has helped thousands take charge of their fertility and give themselves the best possible chance of finally taking home the healthy baby of their dreams.
Standing Between You And the
Healthy Baby

You Desire Is What You Don't Know You Don't Know
Our patients like to call them epiphanies, and we love that word. But we also like to call them breakthroughs, because it means they're moving forward, stronger, better prepared and more informed than before.
Here are a few places to dive in and start having your own epiphanies and breakthroughs about how each member of your team can take back control.
Considering Solo Reproduction or Egg Donor?
We also embrace the fact that those embarking on a solo reproductive journey and those who are considering a donor program will have different needs, but our experience demonstrates they still require, and benefit from, the same foundation. What we always stress with our patients on these paths is that while your journey outlook may appear different, your innate reproductive ability still holds the key.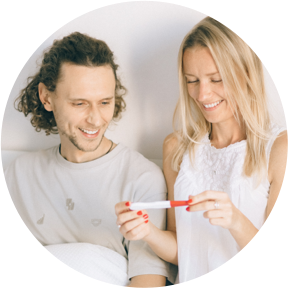 Find Your Strength And Realize Your Dream
How would it feel to know fertility treatment outcomes with 95% accuracy?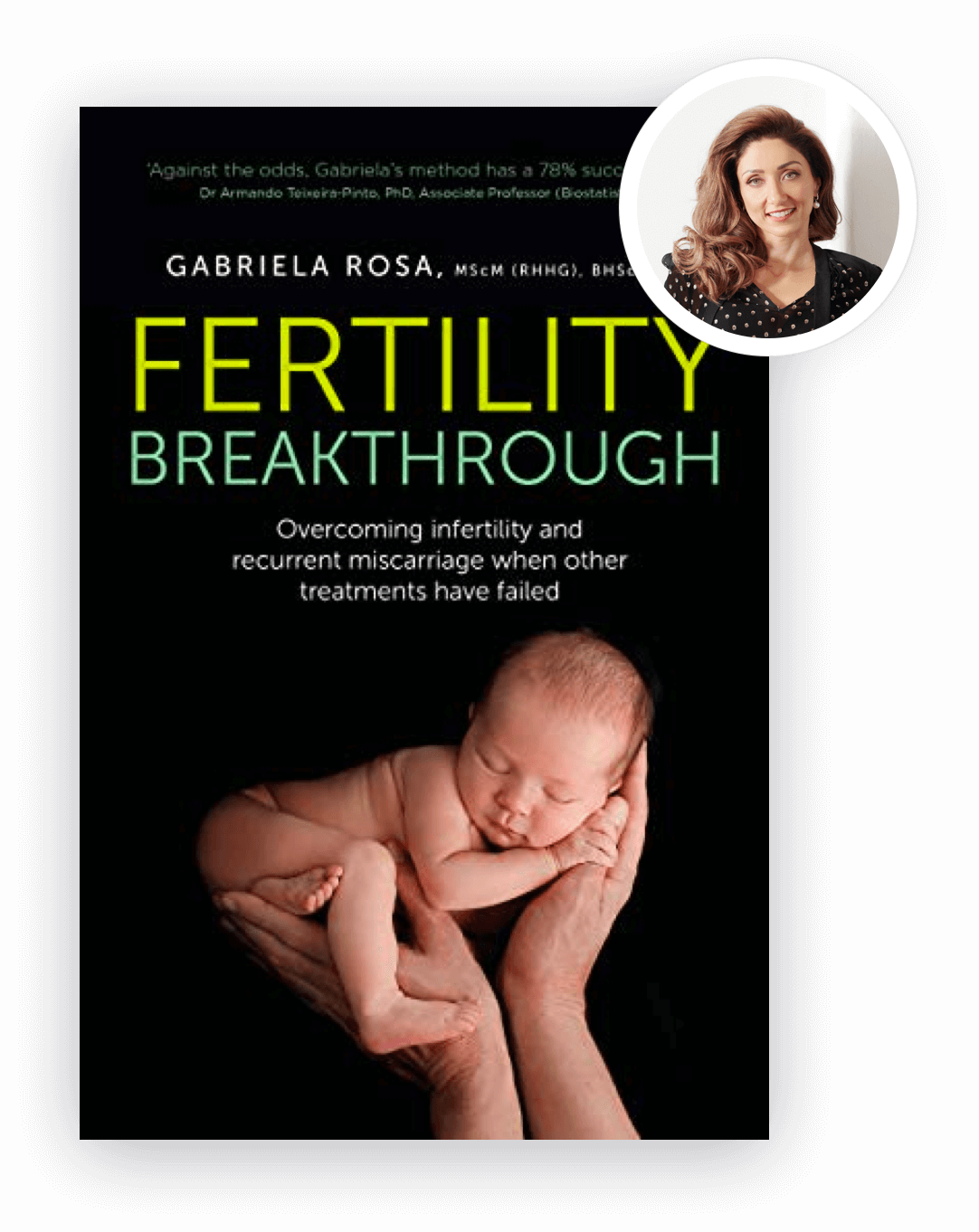 Take Your Last, First Step on Your Fertility Journey Now
Dig even deeper on the many reasons why fertility is a team sport and see how only when both prospective parents can act pregnant now, can they optimise and safeguard their chances of taking home a healthy baby later.
Explore what is learned from 20 years of research, experience, and wide knowledge and see what it looks like in practice in our founder and Program Director, Gabriela Rosa's, newest bestseller, Fertility Breakthrough: Overcoming infertility and recurrent miscarriage when other treatments have failed.
You Do Not Have To Feel Controlled By Infertility
Since 2011, our FREE Fertility Challenge™ program has helped nearly 140,000 people from over 110 countries regain confidence in their health and fertility.
Recently redesigned to feature even more direct support and interaction with Gabriela, as well as a smaller, more intimate group, this challenge is only available a few times a year, so if you're ready to change your results once and for all, apply to join today.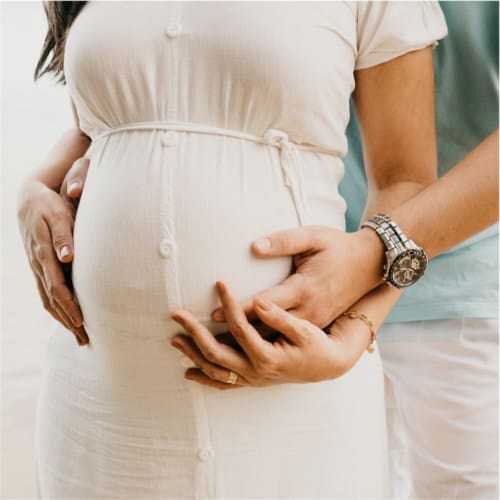 In my mind I was still convinced that it was a numbers game. I believed that my age or the age of my eggs were the problem, that in fact I was the problem. Even worse, I thought that I had done something wrong. I had become so negative I couldn't see my way out. Working with Gabriela and her team I was able to pull apart all these ideas, these struggles, and redefine myself. I talked, cried and unpacked so much with each practitioner. I often said the biggest transformation was my thinking.
Knowing my body as well as I do now, I know for a fact that without a shadow of a doubt it was the Fertility Breakthrough Program™ that got me over the line to being able to become a mum. I am so secure in this that it still moves me to tears – the gratitude I feel towards every part and every one on the program who was by my side.
At the end of the program, Steve and I were lucky to join Gabriela's signature Fertility Breakthrough Program™. I had learned from our initial work with Gabriela's methodology just how beneficial it is to have the support of others. The take home message for me was to include people in our lives who will provide the support we required to achieve our goal and not to go at it alone in terms of self-diagnosing and treatment.
As a natural skeptic and pragmatist, this program spoke loudest to me – more than anything I had seen or heard or read to date. Not only is the science sound and reassuring, but the way it's packaged and phrased makes complete sense.
Everything was pinpointed with such accuracy and we were able to get proper diagnoses through testing instead of the heartache of implantation failure.
"When it was time, we felt the healthiest we'd ever been and got pregnant very quickly and naturally. It felt surreal that after everything we'd been through, we could get our bodies to the place where they did on their own exactly what we had been longing for."
"Our lives were forever changed following the knowledge, support, preparation, understanding, and changes we made during our participation in the Fertility Breakthrough Program. Nothing else in the course of treatments we endured through ART made this difference."
Her program and team have made THE difference to us as individuals and as a family – as we would never have met our sweet Elsie without them.
In her new book Fertility Breakthrough, Gabriela Rosa gifts men and women faced with the daunting challenge of infertility with her holistic and science-based blueprint optimising the potential for a successful pregnancy. Blending wit and wisdom, Fertility Breakthrough provides the reader with Gabriela's tips, tools and techniques based upon her years of experience guiding couples desperately seeking trusted guidance.
Dr. Pamela M. Peeke, MD, MPH, FACP, FACSM
New York Times bestselling author of Body for Life for Women, Assistant Professor of Medicine, University of Maryland, USA